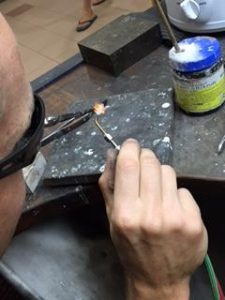 When I was a child, dad (who has now been a custom jeweller for over 30 years), used to take me to the store he owned in Johannesburg, South Africa, give me a thin piece of silver and a pair of pliers and leave me to my own devices while he set about designing and creating beautiful, individually designed pieces of custom jewellery.
When we moved to Australia, dad worked from home so, every day after school I would warily enter the inner sanctum of jewellery workshop.  This was actually little more than a portion of the double garage  and an adjoining tin shed but, to me it was a place of creation and wonder, an alchemist's lab filled with all sorts of fantastic devices and beautiful shiny things.  I used to sit and watch dad for hours, me talking about school and him explaining to me how he was putting a ring together or, what held the stones in place or, how he got the metal to shine so brightly.  I always marvelled at how he managed to create such beautiful, intricate, custom jewellery from what started as an unimpressive lump of yellow metal, by carefully rolling, bending, cutting, twisting and filing it into shape.
In 1998 mum and dad opened their store in Perth making custom jewellery. For me this meant a perfect weekend job to earn a little extra pocket money.  I cleaned, made coffee, swept the floors and sometimes, if I was really lucky, dad would sit me down and let me have a go at repairing a piece of old chain or let me 'help' him make a wedding band.
After graduating high school I decided to take things a little more seriously at the jewellery store.  I started slowly, working 3 days a week learning the basics but, after 3 months, I was hooked and, begged to be signed on to a proper 5 year apprenticeship.  I loved the sense of accomplishment I got when I finished each piece and I loved being able to hold something beautifully crafted in my hands and say 'I made this'.
After completing 4 years of this apprenticeship under the expert tuition of my father, the travel bug bit and, I moved to Johannesburg to complete my final year.  This was a fantastic experience during which I learned a great deal – not all of which was jewellery related!  During my time in Joburg, I decided that travelling and making custom jewellery was what I wanted to do with my life. I spent a year backpacking through Africa which was an amazing, eye opening experience! With my itchy feet well and truly scratched I headed home to Perth and and back to the family business.
Since then I have alternated between working in Perth, saving my money and,  travelling and working abroad.  A year in  Vancouver, Canada taught me a whole new set of skills and techniques learned from the crew at Van Yperen Jewellers, Another year riding my bicycle down the Great Divide Trail in the US and into Mexico  taught me a whole new skill set I would not have learned sitting in a workshop in my home town – the ability to interact with and understand people of all cultures, self-reliance, patience and resourcefulness. There were also many different sources of inspiration for jewellery design on this trip, the majestic Rocky Mountains and the temperate rainforests that cling to their flanks, diving the stunning tropical reefs in Belize, sailing down the Mexican coastline, the amazing Aztec motifs and architecture plus, all the beautiful silver Mexican jewellery I saw all over the country. I have been inspired by my travels to  Indonesia – its tropical beaches and the amazing jewellery they produce using skills long forgotten by the western world, India with its yoga ashrams, its amazing colours  and its beautiful jewellery of bright yellow gold and amazing gems.  The wild expanses of Africa and the rugged majestic beauty of New Zealand inspire me to make large organic, wild pieces.    And, the mountains, snow and ice of the Andes and the incredible Incan jewellery with its tribal motifs and icons make me want to work with platinum and diamonds!!